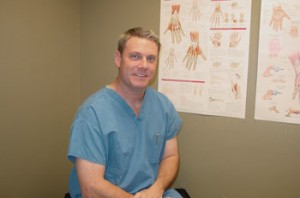 Dr. Naffziger was born and raised in central Illinois near Peoria and attended Illinois Wesleyan University. As a magna cum laude graduate with degrees in Biology and Art History, his passion for science and medicine led him to the Southern Illinois University School of Medicine where he received institutional honors and his doctorate degree.
While at SIU, Dr. Naffziger completed his six-year integrated general surgery / plastic surgery residency and special rotations in pediatric plastic surgery at Children's Hospital in Chicago.
In 2004, he moved West to work as an associate at San Juan Plastic Surgery in Farmington, New Mexico. Then in 2009, Dr. Naffziger moved to Durango, Colorado and opened his own practice, Animas Plastic Surgery. Dr. Naffziger performs and specializes in cosmetic facial and body surgery including liposuction and reconstructive breast surgery-using both implants and the patient's own tissue.
He is also known for reconstruction of facial and body deformities for congenital, traumatic and cancer disorders, all aspects of hand surgery, cleft lip and palate repairs and burn care. Dr. Naffziger has performed cleft lip and palate as well as other congenital deformity repairs abroad through the charitable organization "Operation Smile."